Services of the Centre include preparation and conduct of customised seminars, training and consultative events at the request of individual banks. To design such training events we engage professional lectors, who have significant working experience in banking. 

Corporate training is designed in accordance with goals and tasks set by a bank. It allows the bank to choose the time and location of the training event and to benefit from reduction of training costs. The design of each training programme is developed to best meet the bank's requirement and expectations and with due attention to professional level and functions of participants.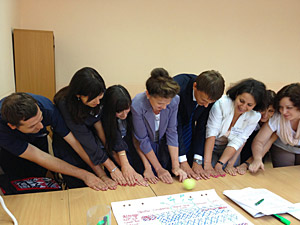 Our approach to relationship with customers is based on comfortable training process and flexible pricing. We maintain high standards of service, which is attested through questionnaires, responses from participants and impressive portfolio of our long–term clients.
We offer organization of seminars on following directions:
Strategic management and planning
Treasury
Internal audit and control
Human Resources Bank
Involvement and Customer Service
Marketing and customer service
Loans
Dealing with bad debts
Risk management
Financial Monitoring
Securities
Foreign currency transactions and foreign exchange control
Accounting, payments and taxation
Operations with payment cards
Cash and settlement services
Legal regulation of bank
Banking Security
Other
We are also ready to develop customized corporate training programmes tailored to specific needs and objectives of the bank.