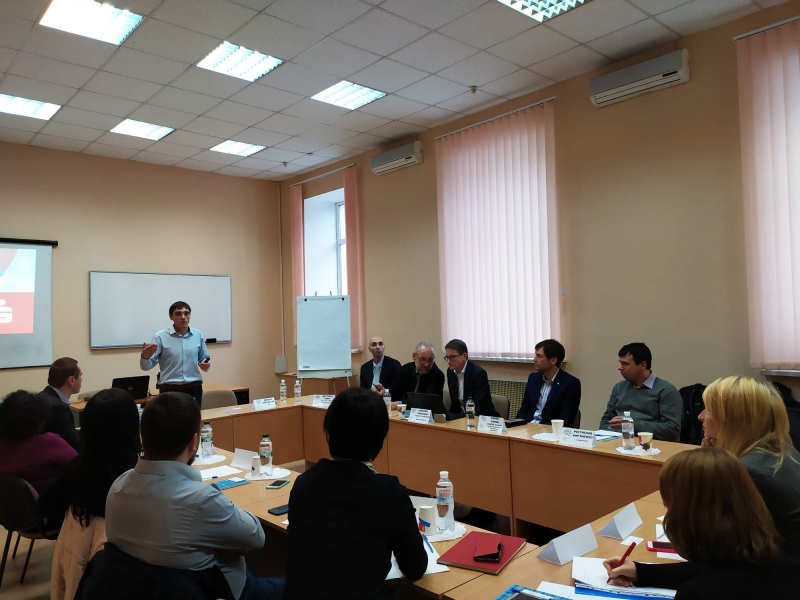 In September 2019, the Center started cooperation with Sparkassenstiftung für internationale Kooperation within the regional project "Responsible Financing" aimed to development of training programs with the involvement of leading banking professionals of Germany.
The purpose of the collaboration is developing of the modular training program "Risk management in a bank". 
On November 19, we delivered the first meeting of the Working Group dedicated to discussing formats and accents of the first training program devoted to the operational risk management. The Working group consisted of experts from the Ukrainian banks, representatives of Sparkassenstiftung für internationale Kooperation and German expert Mr Rüdiger Rurainsky. Mr.Rurainsky has worked for more than 30 years in banking and development finance, and is an experienced, versatile expert with a unique combination of product, business, accounting and management expertise. 
The participants agreed on developing preparing the modular program which meets the requirements of Ukrainian banks what will be held in our Center next year. 
The first pilot seminar OPERATIONAL RISK ASSESSMENT, CONTROL AND MANAGEMENT will be held on December 18! 
Effective training of bank employees contribute to the strengthening and success of the bank as a whole!